The Power of Emotional Awareness in Children: Nurturing Well-being
October 13, 2023
By Keeley Seymour, LCSW
4 min read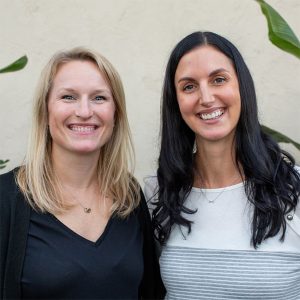 In the world of entrepreneurship, partnerships are often forged amidst shared dreams, mutual trust, and a desire to create a business unique from other work experiences. For us, Keeley Seymour and Jen Donovan, our journey as business partners is the culmination of years of friendship and professional camaraderie. As we took the first steps toward establishing our own small business, the story of our collaboration is not just about the birth of a new venture; it's a testament to the power of longstanding connections, complementary skills, and a shared vision.
Jen and I have been colleagues for over a decade, first working together at an eating disorder treatment facility. Throughout our time at that facility, and in workplaces that followed, we have weathered numerous challenges, celebrated each other's successes, and most importantly, have come to appreciate the unique strengths we each bring to the table. While we excelled as part of a larger team, we couldn't help but feel that there was a dream workplace that fostered work-life balance, professional growth, and autonomy in the manner in which we envisioned.
Our journey into starting our practice began as many do, with late-night conversations, brainstorming sessions over coffee, and scribbled business ideas on napkins. As we explored these concepts, a shared vision started to crystallize. We visualized a small business that would allow us to blend our expertise, creativity, and passion into a venture that was not just a more sustainable career path, but also personally fulfilling.
When discussing the vision of our practice, we realized how much our values aligned. We envisioned a workplace that was supportive, flexible, and fostered autonomy, allowing each therapist to utilize their unique skills in providing quality therapeutic services. Both of us had experiences working in private practice part-time, and had the experience to understand the potential of creating a practice of our own.
Not only did our values align, but our vision of the type of clients served also fell in the same path. We agreed on focusing primarily on treating eating disorders, along with other co-occurring conditions. After evaluating the current market, we uncovered the limited availability of outpatient resources in the Philadelphia suburbs to treat eating disorders with individuals, particularly teens. We noticed the lack of awareness around eating disorders in schools, with medical providers, and within the community. We were determined to not only provide quality eating disorder treatment, but also education to professionals and the community around eating disorders.
Throughout the formation of Evolve and continuing to today, we have been able to build off our strengths, which perfectly compliment each other. Jen is strong in detail oriented, operations-related tasks. She is responsible for administrative tasks related to operations of the business on a daily basis. Keeley's strength is creative-related tasks, including (this blog!), marketing, social media and outreach. While Keeley is out looking for an additional office space and coming up with ideas for new services (including the horse farm!), Jen is asking Keeley for a receipt for buying paper yesterday. 🙂
When coming up with an ideal name for our practice, we settled on "Evolve Counseling Services". The definition of evolve is "to develop gradually, or to make someone or something change and develop gradually." We determined that we had a shared goal of creating a welcoming, safe, and supportive environment for our clients. We wanted to create a space where people of all backgrounds, shapes and sizes could visit for services in a non-judgmental, caring, and compassionate way. A place where people can change, grow, evolve into the person they want to be.
Five fun facts about us that have nothing to do with work!
Jen
Is a Super Fan of the TV show "Friends" and watches it whenever feeling tired or stressed.
Enjoys gardening and takes care of all of the office plants.
Has a strong interest in essential oils, from using them as aromatherapy in the office to cleaning supplies to "sedating" her children.
Has two dogs, one of which is on psychiatric medication. Dee ♡
Is an avid tea drinker. While she enjoys trying any and all teas, her favorite morning tea is Tazo Awake English Breakfast.
Keeley
Likes to travel and in 2023 has gone to Hawaii and Iceland.
Likes cooking and making anything from Half Baked Harvest.
Is fluent in Spanish and used to interpret/translate for an immigration attorney before becoming a social worker.
Has two cats, one of which is on psychiatric medication.
Is an avid coffee drinker and gets La Colombe box o'coffee shipped to her house every two weeks.
Five fun shared facts about both of us!
We both used to live in San Diego before we knew each other and around the same time!
Our favorite foods are Greek and Italian.
Keeley and Jen own some of the same clothes and have to coordinate wearing them sometimes.
Keeley's son and Jen's father have the same name. Jen's husband and Keeley's father have the same name.
Jen likes to bake Christmas cookies every year and Keeley likes to eat them.